Rita put the two bags of groceries down on the counter and took a deep breath. Though her body ached from her 8 hour shift at the nursing home, she knew she had to get busy preparing the Thanksgiving meal. Grandma Minnie and Dad and her Uncle Ron were coming over tomorrow at 2 instead of 4 p.m. because of Rita's second job. Every year corporate office pushed Black Friday earlier, this year requiring all the employees to be at work by 8 p.m. on Thanksgiving night.  Rita knew better than to complain. She couldn't afford to be fired from her second job. When Tom passed away last March, she was so afraid that she and the children would lose their small home.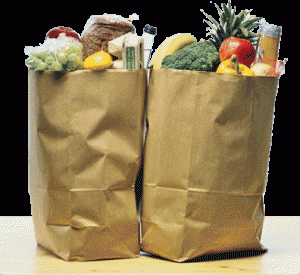 "Mom's home!" Billy came running in and flung his arms around his Mother's neck. Brian followed behind him and for a moment the three of them held each other. Mrs.Wilson walked into the kitchen and smiled as she watched the children hugging their Mother.
"Thank-you for staying late, Mrs. Wilson," Rita said, taking out her wallet to pay the babysitter.
"Don't worry about the extra hour. That's my Thanksgiving gift to you!"
Rita turned and looked at Mrs. Wilson. "Thank-you so much! Are you going to your daughter's house for Thanksgiving?"
Mrs. Wilson looked at Rita sadly. "I forget to tell you that my daughter took a job 3000 miles away. Her company told her to take the job transfer or look for another job. She couldn't afford to give up that job."
"So you'll come and eat with us! There's always room for another person at our table."
Mrs. Wilson looked at Rita with tears in her eyes. "What a thoughtful offer! I would be delighted to come. What can I bring?"
"Just yourself,  Mrs. Wilson. You'll be our special guest!"
"Rita…I never asked you. Who takes care of the boys when you go to your second job?"
"My Dad comes over and babysits because on my wages I can't afford to pay anyone to watch them. He brings Grandma Minnie with him because she's too old to stay alone. He takes care of her full-time."
Mrs. Wilson smiled at Rita. "Listen to me dear girl…I am all alone now and would love the companionship. Let me offer you this. If your Dad can't make it one night or many nights for that matter, I will be happy to come stay with the boys at night for no charge. I love those children and enjoy spending time with them."
Rita walked over to the elderly woman and gave her a big hug. "Thank-you" she whispered in her ear.
Though life was challenging, Rita felt truly blessed to have so much love in her life!
To all the hard working Americans working in the sales and service industry this Thanksgiving holiday…Thank-you!!
This story is dedicated to all of you!