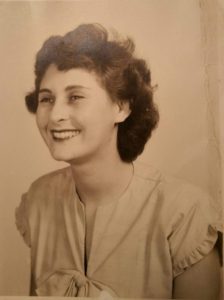 Recently, my cousin, Eadie, sent me this picture of my mother that she discovered in an old album. It was not dated but I am guessing my mother's age as 20 something. I had never seen this photograph and was thrilled beyond words!
My last memory of my Mother was when she was only two years older than I am now. She was curled up in a fetal position barely able to speak. Years of Parkinson's Disease had take its toll on her body along with the drugs she had consumed (to give her some relief) that ended up having side effects more disastrous that one could ever imagine.
I am still haunted by the images of her final few years….
In my mind, I want to visualize my Mother as the beautiful, vibrant woman she was. There are so many wonderful memories…
Blanche Barnett Nevel never learned to drive. It was funny because my Father owned an auto dealership and she could have had any car she wanted. Instead she chose to walk and ride her bicycle everywhere. She used to say, "My feet are my Cadillac!" She had a seat on the back of her bicycle where every one of her 5 children spent time seeing the world through their Mother's eyes.
As a young child, I once took a 10 mile walk with my Mother from Coral Gables, Florida to downtown Miami. We held hands and talked the whole way. Then she took me to a deli and bought me a tuna fish sandwich and orange sherbet. She told me she was proud of me for not complaining about the intense heat and humidity.
My Mother was pregnant a lot when I was a little girl. I once had a teacher come to our house because she thought I was telling "stories" at show and tell when I said my Mother was pregnant again. This was the 50's and the teacher thought the  word "pregnant" was considered shocking to say to a classroom filled with 7 year old children. She was surprised to find out that I was telling the truth.
I remember the first poem that I wrote. I was 11 years old and there was a war going on. Here is an excerpt from that very first poem:
He went away with the others that day..To fight a war which I prayed we would would win…with tears in my eyes there was nothing to say…But I managed to smile as he held up my chin…"Be brave my love for soon victory will come…Our lives will mean more than ever before..though sadness and grief may dominate some…Faith and courage will open their doors."
My Mother listened quietly. She told me it was a wonderful poem and I should keep on writing. For years, on my birthday, she gave me books of poetry from writers she knew I admired. Rod McKuen was one of my favorites!
June 6th, 2016 would have been my Mother's 92nd birthday. She died twenty five years ago, when I was 40.
I remember the morning of the funeral, standing by the ocean thinking, "This day is much too beautiful to be burying my Mother!" As the tears flowed down my cheeks, I thought I saw her reflection in the glittering waves kissed by the sun.
She was letting me know it was time to let her go….