Four years ago, (for Valentine's Day), I bought my husband a love seat at Ashley Furniture in Asheville, NC. I had a $500 budget and the salesman suggested a Durablend material which in his words was almost as good as leather.
DuraBlend is a trademark of Ashley Furniture Industries, Inc. Durablendâ"¢ upholstery offers the rich look and feel of leather using a polyurethane/leather blend to create a comfortable and economical alternative to natural leather. Fabric Contents: 57% polyurethane, 26% poly/cotton, 17% leather.
Though our children were grown, we were non-smokers and had no pets, I still purchased the 5 year warranty on the loveseat. It was an extra $79.00. I was told it covered everything!
A few months ago, I noticed that the material on the loveseat was peeling and cracking. I called Ashley Furniture. A woman working in the office told me that they had switched warranty companies. She gave me the number of the old one that I would still be covered under. I called the company immediately. The girl who answered asked me a few questions about how this damage happened. I explained that my husband and I were the only ones who sit on this loveseat and the material was starting to split.  She gave me precise instructions on what to do which included sending in photos of the damage on the loveseat. She gave me a claim number and reassured me someone would get back to me to very soon.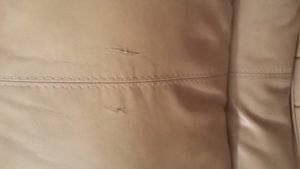 After several weeks, I followed up with a call. I was given the run a round. A week later, I called again and was told by a supposed supervisor that my damage would not be covered because it was NOT accidental. The woman's exact words were, "If you had said that your dog did the damage or one of your grandchildren had ripped it with a toy, you would have been covered. However, we don't cover normal tears in material. I asked the woman WHY I was not given this information weeks ago and led to believe that I would be covered? I told her I don't tell lies and I expect to be covered since I paid for a warranty. She said, "No" and hung up.
I went to the the store and shared my story. The girl who I spoke with was nice to me and said she would credit my warranty toward another love seat but could not do anything else. She said there was no manager or other employee at that store who could anything for me. She suggested that I call Ashley Industries (consumer affairs) and tell them how disappointed I am that the Durablend material did not hold up.
I spoke with a customer service representative at Ashley Industries. She informed me that they only cover defects in the material for 4 years. I had just gone over the 4 years and there was nothing they would do for me. I found that quite a coincidence and wondered if it was even true. I remained polite but expressed that I was very disappointed in Ashley furniture and their inferior products.
I think one of my biggest issues (besides my poorly constructed love seat) is the disappearance of any real customer retention concerns now that Asheville's Ashley Furniture is no longer family owned. I have been a loyal customer for years and have bought thousands of dollars worth of furniture from them. I am upset that I am no longer of any importance to Ashley Furniture. I shop at another furniture store in Asheville that is family owned and can't help by compare the way I am treated.
After this incident, I did research and discovered many negative write ups about Ashley's Furniture and DuraBlend material. Here is an example…
I bought a love seat and a sofa from Ashley along with their warranty in 2011. I thought I was buying a true leather sofa, yeah it wasn't.
And the warranty was a waste of money. Both my sofa and love seat are peeling and flaking. They look horrible and when I tried to make a claim, I was told that it was considered normal ware and tare (trust me it's not…the whole seat cushion is gone, well the durablend that covers it is and its flaking off on the back rest as well). It was totally a waste of money and I am so disappointed that we got them.
They really are poor quality and the warranty that I was told covered everything was a complete waste of money.I hope to never own Ashley furniture again if I can help it.
I hope this account of my experience will help anyone who is shopping for a sofa, loveseat or chair. My suggestion is to allow a salesperson to help you find furniture that stays within your budget, BUT before you buy a material that is new to YOU, do some research. It will take you just a few minutes to read shopper's reviews.
As a Consumer Writer for several decades, I feel it is important to pass on anything I learn that might help others in a similar situation.
If I can help even one person, it was worth my time and energy to write this story.
~Debi Drecksler
UPDATE:
This issue was resolved. I received a partial refund for my love seat.