I had a lunch date with my husband/best friend the other day and we started reminiscing about the good old days. It's funny how you can look back at the years that you had very little and feel like you were so rich.
1977…I've got a baby in my arms and a toddler holding on to my knees and my husband walks in with a HUGE bouquet of flowers that a street vendor sold him at a red light for $1.00. My smile could have lit up Carnegie Hall.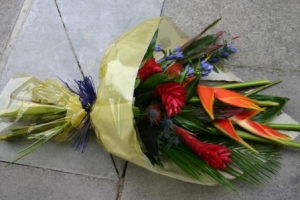 1978…My exhausted husband comes home to a candlelit dinner with beef ribs (a rare treat) and a freshly baked cake.Though the ribs fall apart and the cake collapses, he tells me it is the best dinner EVER!
We talked all through lunch about the fun, silly, romantic things we used to do that cost almost nothing but got us through the best and worst of times.
"Remember the big slice of seven layer cake you used to bring me from the bakery on South Beach?" I ask. He starts to laugh and says, "Promise you won't get mad if I tell you something?" I look at him puzzled. " Remember how I always used to say, eat it all my love, I want you to enjoy every last bit of it. You thought I was being SO generous.  Well… the truth is.. I ate the other piece on the way home!"
I look at him and smile. "You never fooled me sweetie…Remember the big sloppy kiss I always gave you before I ate the cake?"
P.S. Those were the days!