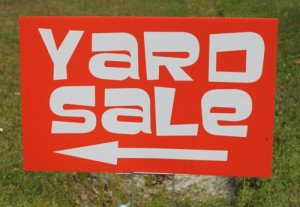 I recently organized a community yard sale at the development where I live. Several other families chose to participate with me. Each one set up in their own individual driveways.
In October, in the mountains of North Carolina, it is usually very cold at the wee hours of the morning. I was dressed in my warmest jogging suit, dashing around trying to keep from shivering. The sale was scheduled  to begin at 8 but the first customer showed up at 6:45. She was a sweet lady and she apologized for being such an early bird. She wandered around talking to herself. I felt badly that I couldn't give her my undivided attention.
Folks started showing up at 8 and the steady stream of customers continued all morning.
As those of you who are loyal readers know…I LOVE meeting new people and find a story in just about everyone!
Here are some of the items I sold at my yard sale and a little about the "characters" who purchased them.
The  Dresser…A solid wood, sturdy dresser with just enough scratches on it to make it look like it had an interesting history. This dresser, which child #4 inherited from an older brother, moved with my youngest son to many of his places of residence until he relocated to L.A. If it could talk, it would have many stories to share because its last owner. a.k.a. Adventure Paul leads an exciting life! p.s. I sold it to a woman who actually seemed thrilled about finding exactly what she wanted. I liked her smile which is why she beat out everyone else for the dresser!
The Bride Doll… This beautiful doll, whose base is actually an umbrella went to a VERY adorable lady in her 60's, (she told me her age) who insisted on having me give my doll a name before she left the yard sale. After much discussion, we decided to name it Debi (what a surprise). The lady took my business card and promised to take me to lunch. We exchanged funny stories as I walked her back to her truck.
The Straw Hat…A man picked up one of my husband's straw hats and said, "Why are YOU selling this terrific hat?" He paid my husband the 50 cents and went down the driveway with a huge grin on his face and complimenting himself for getting such a bargain! My husband grabbed the other straw hat he had put up for sale and wore it the rest of the yard sale! A little guilt perhaps that he gave away SUCH a treasure?
The wire baskets…A professional yard sale shopper picked up eight brand new wire baskets that retailed for $5 and were being sold for .50 each and said, "I'll take them all for $3..ok? I handed her the remaining two and said, "This is your lucky day! You can buy all 10 for only $5." She gave me a "you're on to me" look and paid me the $5!!
The small dining room table and chairs…This was the MOST popular item of all. It was practically brand new and had been bought when I "staged" my previous house while it was on the market.  A cute young girl fell in love with it and decided she wanted to buy it. After she and her Mother left to go to the ATM and withdraw money to buy it, three other people wanted it. I could have had a bidding war and made a few extra dollars, but I take my promises seriously. When the girl and her Mother returned with the money, my husband made me guess the girl's age…She looked about 14 but turned out to be 22.When her brother came with her Father to help her load it up in the car, I guessed the brother's age as 16. He was 13 and a head taller than his big sister.
Last tidbit…The cute young girl( who looked 14 but was really 22)  fell in love with my snazziest purse and wanted to buy it. Since I already had sold the table at exactly what I wanted, I threw it in as a gift with the dining room table and chairs. She gave me a look like she had won the lottery!
As everyone drove off, I thanked them for shopping at Debi's Boutique and invited them back next year!