DEBI'S FIRST EXPERIENCE WITH ORGANIC COCONUT OIL  (Nine Months Ago)

After reading about the skincare benefits of coconut oil on my Facebook page (thank-you Dawn M.) and constant requests from my daughter, Heidi D. to use organic products, I bought myself a big jar of Organic Coconut Oil for just under $10.  Later that night, I stuck my hand in the jar, put a little coconut oil on my face and went to bed. In the morning, I was surprised to see that there was no residue on my pillow case. My skin felt soft as a baby's tush which is a wonderful result for someone with VERY dry skin. I also have extremely sensitive skin and was happy that I had no strange reaction.  After this very nice experience, I made this part of my nightly regime. Within days, I could see and feel the difference in my skin. I was hooked….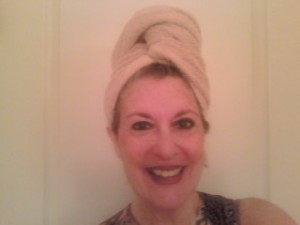 TIPS WHEN USING ORGANIC  COCONUT OIL ON YOUR FACE

1. A little goes a VERY long way.
2. If it is too thick for you, just add a few drops of water.
3. Do not use it right before applying eye makeup or your makeup might get smudgy. I love using it as my day and night facial moisturizer but have to avoid the eye area  if I'm planning to wear shadow, liner or mascara.
4. After you finish putting it on your face, run your hands through your hair. It is great for smoothing flyaway strands.
5. Buy a  travel size container and transfer some of your coconut oil into it. It's a lot easier than carrying around a big jar when you're on the go!
COMPLIMENTS I'VE RECEIVED SINCE USING COCONUT OIL ON MY FACE
Male cashier asking to see my license when I  paid by check…  "Why are you showing me your Mother's license?" (Was that a compliment or a pick up line?)
Teenage Boy In Movie Theater Box Office..."You have to be 55 for your Senior Citizen Discount." (I wanted to give that kid a little hug)
Husband of 36 years…"You look SO hot I am going to stop watching the movie I've seen 25 times and take you out dancing!" (Alright, maybe I made that one up??)
Disclaimer…Debi Drecksler is NOT being paid for this testimony by any company that produces Organic Coconut Oil. If any company wishes to compensate her for using her testimony, she will gladly accept a jar or two of Organic Coconut Oil and a trip to an exotic island. ( Debi is kidding about the the second request but feel free to include the trip if your company is feeling generous and/or needs a tax write off.)